Upgrade your AC induction motor and VFD
to an integrated, closed-loop vector servo
PRICES START AT ONLY
$
698
Combined 1 hp motor,
servo drive, and encoder
BUY ONLINE
SHIPS IN 3 DAYS

Top 10 Reasons to Upgrade to ClearPath: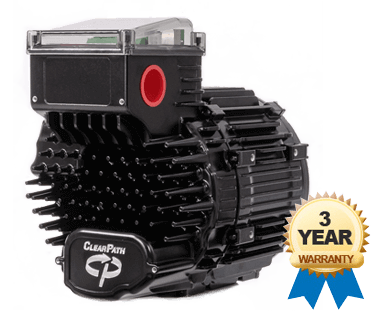 1.

Integrated —

No drive to mount, no motor-to-drive cable to wire and route. Faster and easier installation.
2.

Full torque at zero/low speed —

Hold position without a brake or clutch; eliminate speed-reducing gearboxes.
3.

Excellent velocity accuracy —

Smooth and precise (within 0.001%), even at very low speed.
4.

Smaller and lighter —

Takes up less machine space, and no panel/enclosure space; easier to handle and install.
5.

Easy to Use —

Simple I/O control (see videos below); auto-tuner optimizes performance for every application.
6.

Reserve power when you need it —

Most models have 300-400% peak torque capability to eliminate stalls from transient overloads, maintain accurate speed despite large load disturbances, and make fast, smooth starts and stops.
7.

Control position

as well as velocity and torque; built-in, high-resolution encoder provides repeatability better than 0.006 degrees.
8.

IP65 sealed —

Drive, controls and encoder are protected within the sealed, cast aluminum motor body; no expensive protective enclosures needed.
9.

Matched drive and motor —

no worries about drive/motor compatibility issues or overall system performance.
10.

Low price, great value —

Get a true, closed-loop PMAC servo for the price of an inverter-rated AC motor and VFD. Assembled in the USA, 3-month money-back guarantee, 3+ year warranty.
Basic Specifications and Pricing
Power Range

PeakRMS

900W - 5.8kW (1.2 - 7.7 hp)900W - 3.0kW (1.2 - 4.0 hp)

Input Power
100 - 250 Volts AC(single-phase or 3-phase)
Dimensions

NEMA SizeLength Range

56, 143, D100 (IEC)12 - 14 in.

Price

(qty. 1 - 9)

$698

& up

Show More Pricing
Power Range

PeakRMS

100W - 1584W100W - 429W

Input Power
24 - 75 Volts DC
Dimensions

NEMA SizeLength Range

23, 343 - 6 in.

Price

(qty. 1 - 9)

$249

& up

Show More Pricing
More ClearPath Pricing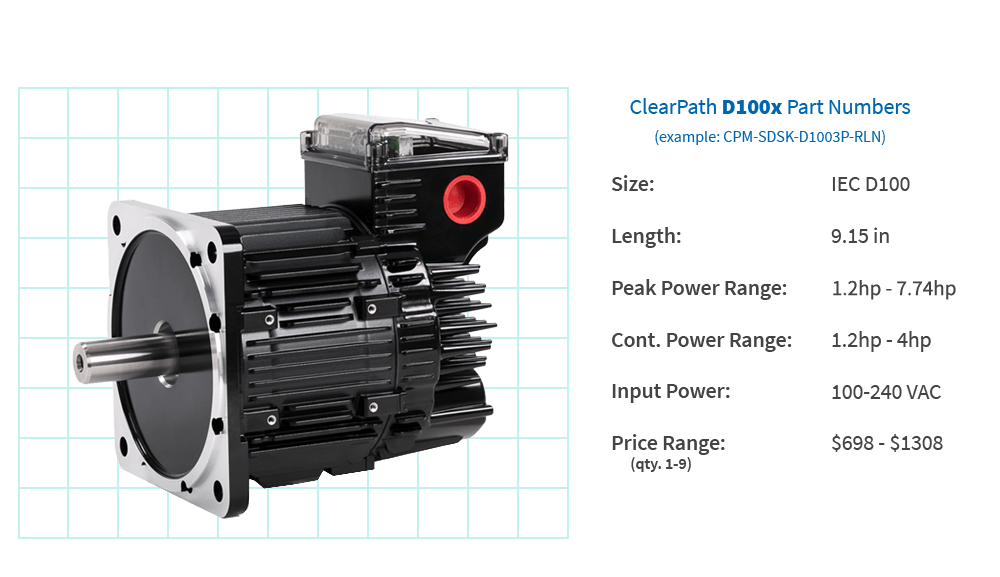 More ClearPath Pricing