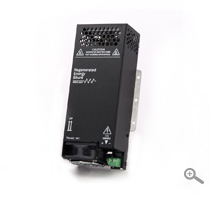 Regenerated Energy Shunt
Part Number: RES-225
Connector: Screw Terminal Block
Dimensions, in: 9.0 x 4.25 x 2.44
Weight: 1.6 lbs
The RES-225 is a regenerative energy dissipation unit that is compatible with AC input ClearPaths. The RES-225 will monitor and manage your motor's regenerative energy output and provides up to 250W of continuous energy dissipation. For wiring and installation instructions, refer to the AC ClearPath Manual.
| Qty 1-9 | Qty 10-49 | Qty 50-99 | Qty 100-199 | Qty 200+ |
| --- | --- | --- | --- | --- |
| $152 | $150 | $146 | $142 | CONTACT |